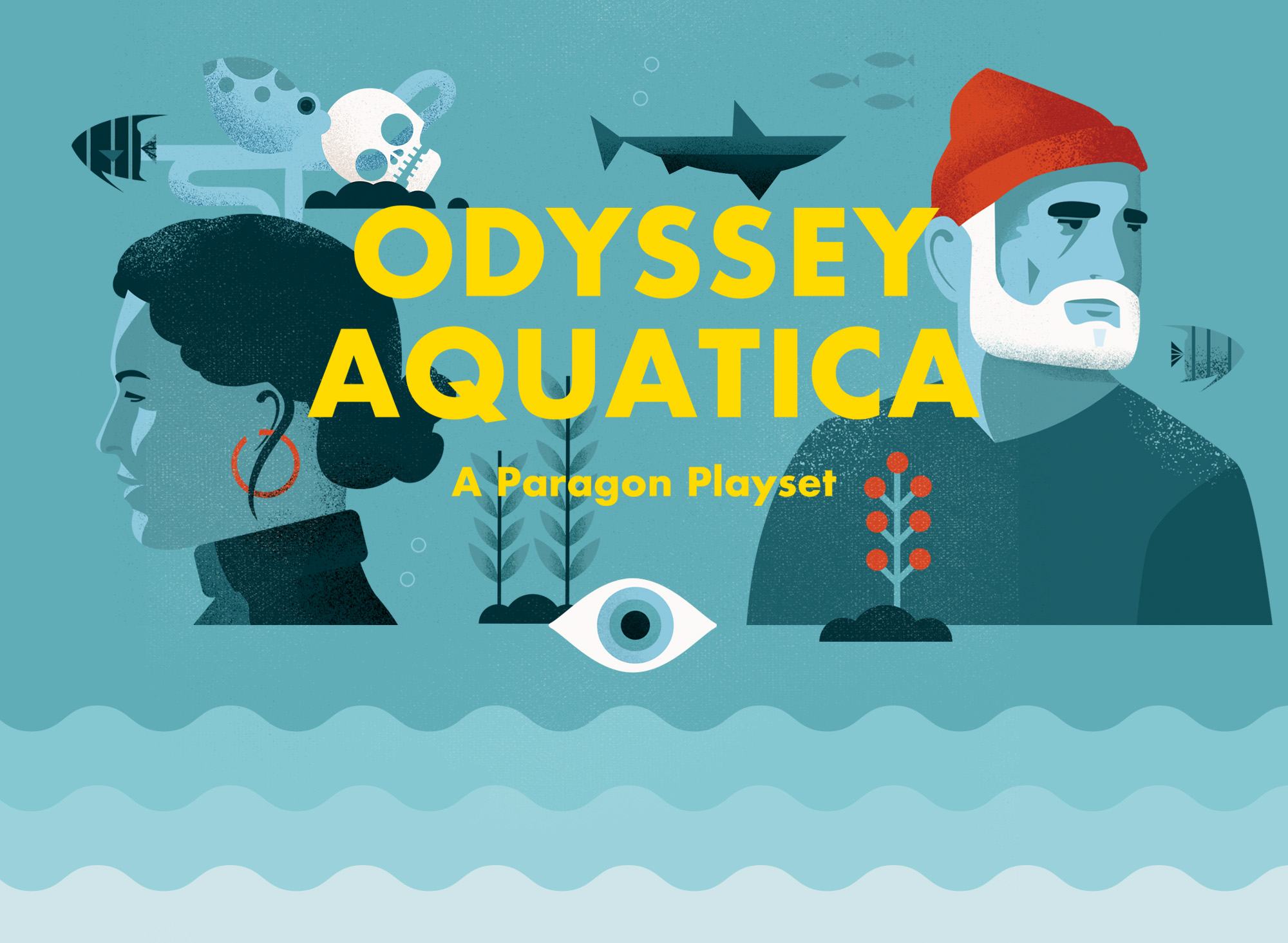 Odyssey Aquatica
ODYSSEY AQUATICA is a 1960s oceanographic adventure playset for the PARAGON system from the AGON roleplaying game. A copy of AGON is required to play. For more on the PARAGON system visit AGON-RPG.com.
The year is 1960 and you are an Oceanographic Adventurer, a brave or foolhardy soul who goes to the most remote seas and the deepest ocean trenches to conduct groundbreaking research, help those in peril, document the wonders you discover — and bask in the glory.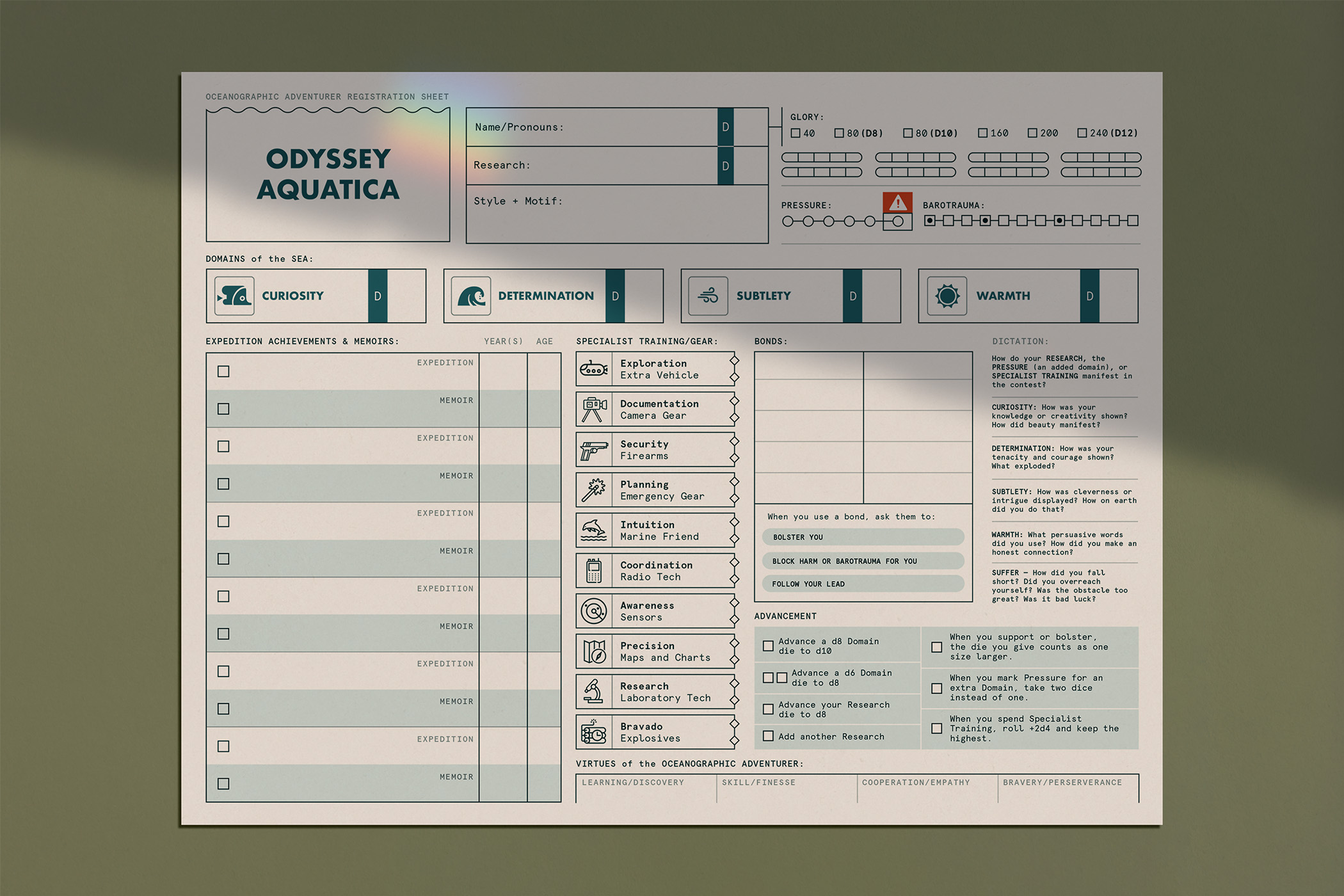 You will chart your character's life work, from their first expeditions to their last, and record memoirs of the years lived in-between.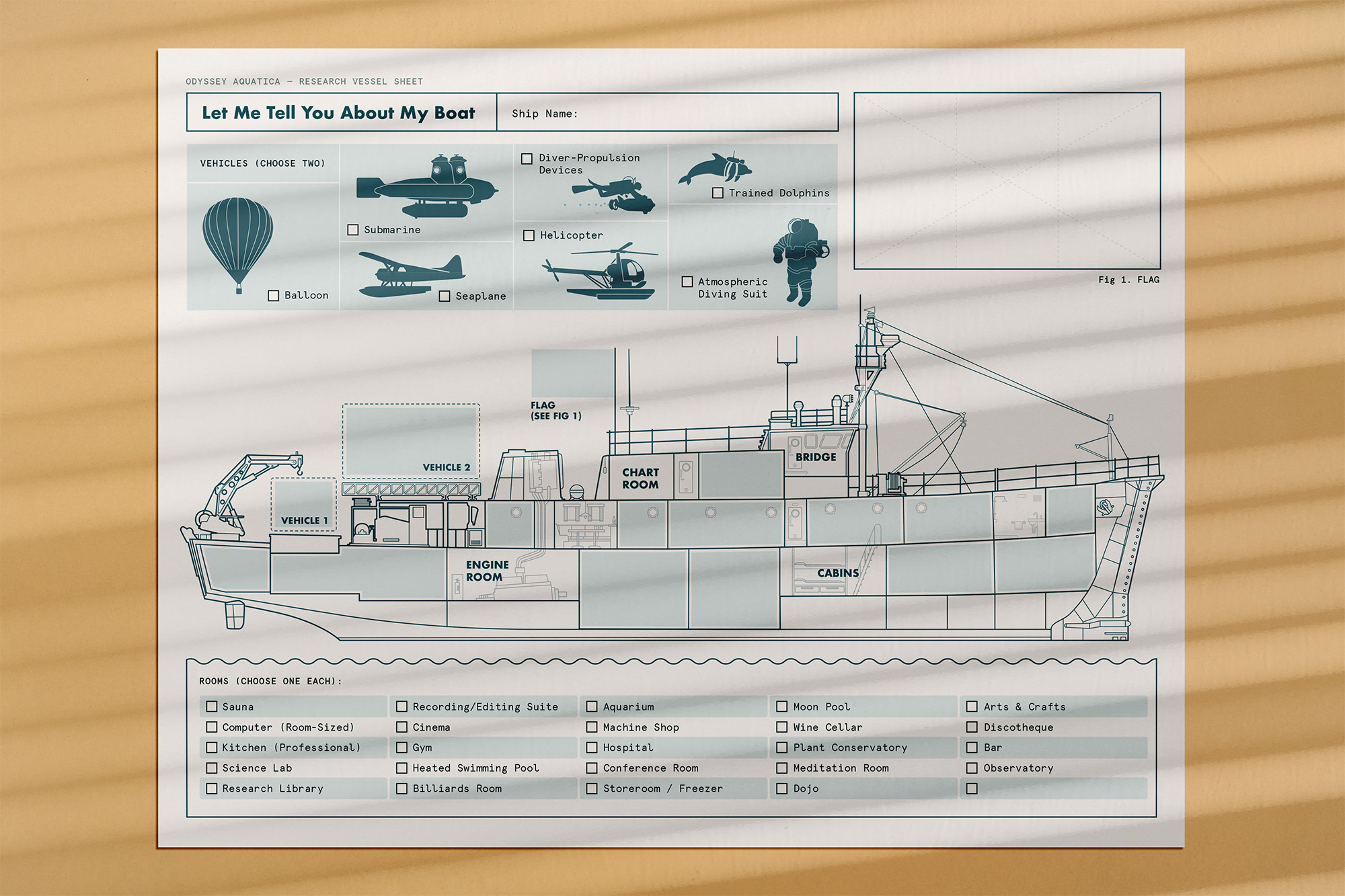 ODYSSEY AQUATICA adapts the fast and flexible PARAGON system to a world of 20th century oceanographic adventure inspired by The Life Aquatic, Subnautica, and the life and times of Jacques Cousteau.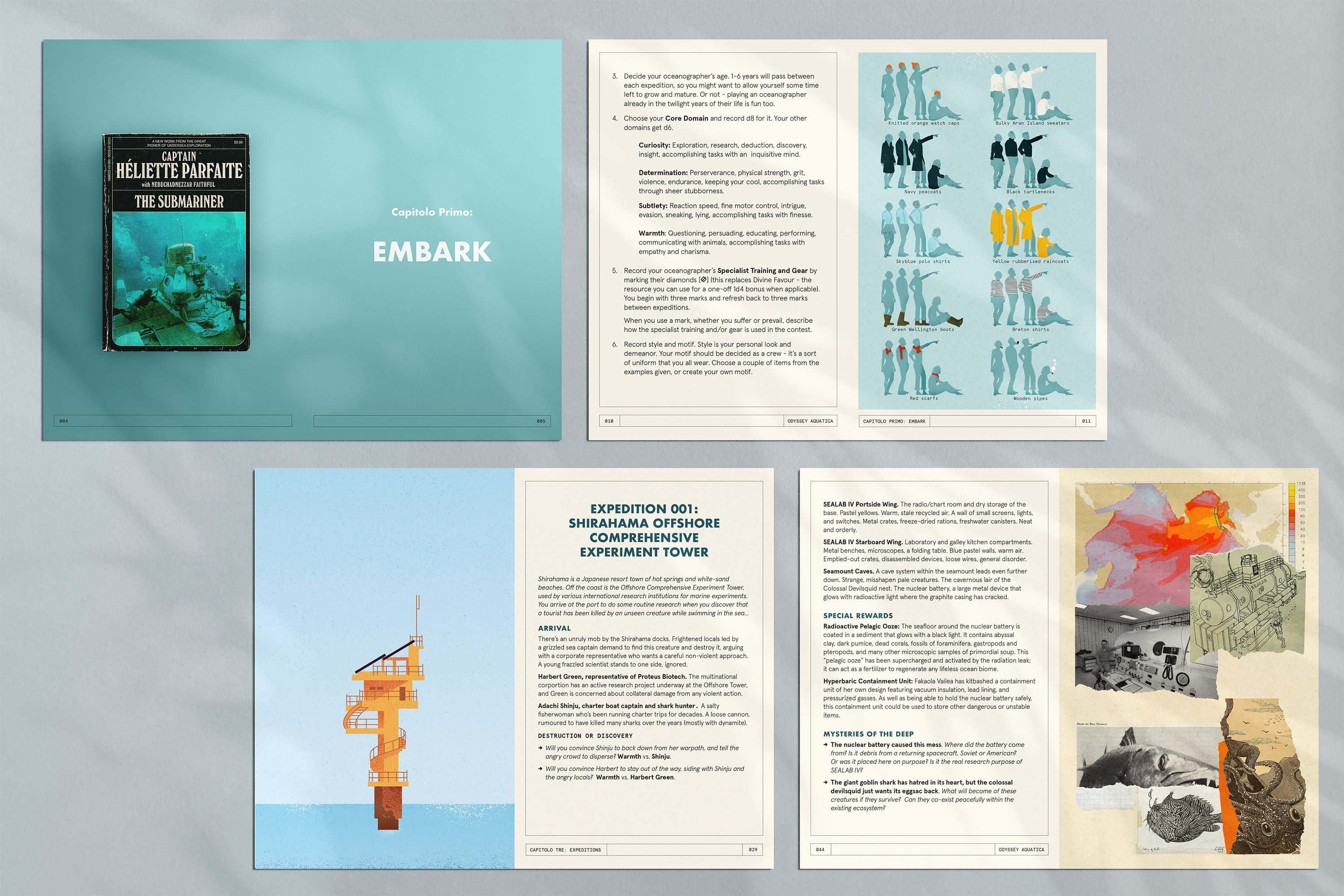 This playset includes:
Expanded rules for the PARAGON system, including memoirs; many years will pass and your character's life will change between expeditions. Go from a young gun in your prime to the burnished glory of your twilight years.
Rivals. Each character has a corresponding rival; track their life journey between expeditions alongside your own.
A 60+ page playset guide, fully designed and illustrated.
A character sheet, strife sheet, and a dedicated sheet for the crew's research vessel (let me tell you about my boat).
Five expeditions ready to play - with arrival, trials, battle, characters, locations, and art for each.
A custom character sheet is available for Roll20 virtual tabletop.
For discussions about ODYSSEY AQUATICA, AGON, and other PARAGON system games, visit the forum.
Purchase
In order to download this game you must purchase it at or above the minimum price of $10 USD. You will get access to the following files:
odysseyaquatica_playset_v1-0_pages.pdf
24 MB
odysseyaquatica_playset_v1-0_spreads.pdf
24 MB
odysseyaquatica_shipsheet_vtt.jpg
823 kB
odysseyaquatica_sheets_v1-1.pdf
180 kB
Bounty of the Sea
Support this game at or above a special price point to receive something exclusive.
Community Copies
Sales of ODYSSEY AQUATICA help others grab a free copy if their budget doesn't enable them to pay the listed price. If you can't afford a copy of ODYSSEY AQUATICA at the listed price, claim one of these free copies for the community.
Comments
Log in with itch.io to leave a comment.
Hi there, just got the game. Wondering if you know of any lets plays online I could watch before trying to run it?
Good question - I am not aware of one, but I should organize something.
cheers and is it ok to share a looking for players link here?
The design on this is so tight. As someone who could be moving to NZ next year, it's great to know NZ TTRPG designers make work that looks like this! Excited to buy + play
That looks amazing! Do you have any plans to add full Paragon rules to the document since now the system is released under CC license?
Thank you! Yes, I do in fact plan to release an updated, standalone version of Odyssey Aquatica. Timeframe TBC.
Is there [or will there be] a physical copy of this?
I had never seen The Life Aquatic before, so I just wanted to let you know that this excellent playset inspired me to finally watch the film; I loved it!!
Really solid work on this gem.

Thank you! And if I inspired just one person to watch the Life Aquatic, my work here is done.
Wow, this looks amazing! Do I need to have the Agon book in order to play it? Congratulations!
Thanks! Yes, you do need a copy of Agon to play. You can get it here: http://www.agon-rpg.com/ (the good news is that Agon is excellent and worth buying anyway)
Oh my god. Where has this been all of my life?